Enjoy Cool, Clean Air, Anywhere!

We redefine the fan with the idea of ​​RE-DESIGN
Improving design by simulating natural wind
And add the ingenious concept of water cooling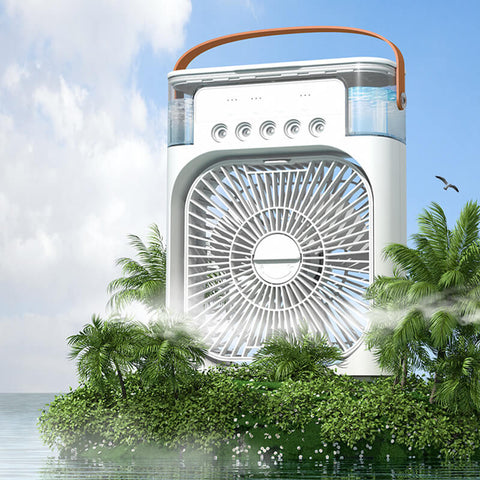 Turning the indoor warm air into a cool and fresh atmosphere, enjoying the cool and moist air and a healthy indoor environment!
600ML large volume spray concentration.Intelligent wind control with adjustable third gear, more even speed, simulated natural wind, strong and stable. NOW!Turned on the spray, rapidly enjoy your cool air!

Brushless motor pure copper wire core, the surging power is more stable, low noise, full power, bass operation, low power consumption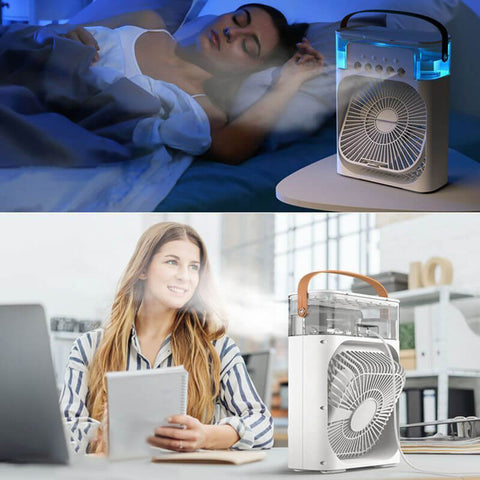 PORTABILITY
small size and light weight, but also because of the hidden handle, which makes the fan of this mini radiator easy to carry everywhere.


????? ???????
Portable air conditioners effectively cool hot dry air with ice water or ice cube added, allowing you to feel refreshed instantly. It's not just an air conditioner, it can also be used as a night light, desk fan, and cool mist humidifier, providing more convenience and comfort.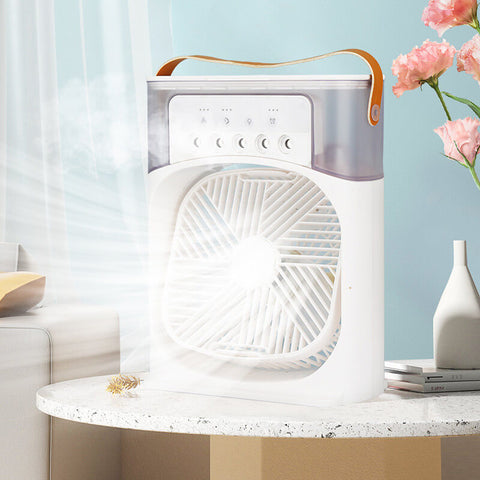 ??????? ? ?????-?????
Our Portable Air Conditioner features 7 adjustable LED light settings, allowing you to customize the ambiance of your space. You can even set your favorite color for a fixed display. This feature enhances the visual appeal of your environment and creates a more comfortable and personalized experience for you.

?????????? ??? ??????
This mini air cooler fan is equipped with humidifier function. Add ice cubes and water to the 21 OZ(600ML) water tank to prevent the constant wind from making you feel dry and to bring you more coolness than normal. Can be used for 7-8 hours Cold air can be sprayed continuously for several hours to keep your body cool at night for a good sleep. The top water tank design increases the convenience of adding water and prevents water leakage

18?°↕ ???? ??????????
Our air conditioning fan features adjustable fan blades and adjustable shutters that allow you to easily adjust the pivot up to 180 degrees, distributing cool air in multiple directions and ensuring even cooling throughout the room. Stay cool and comfortable all summer long with this versatile and efficient portable air conditioner.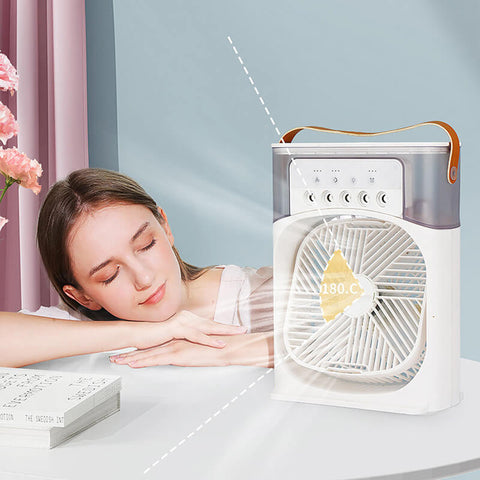 ?????? ???????????
Suitable for bedroom, living room, study room, kitchen, offices, outdoor picnics, RVs, cabins, outdoor tents, and camping.(With USB charging port,the mini air conditioner can be powered by mobile power banks, laptops, adapters, mobile power sources, computers, and car chargers)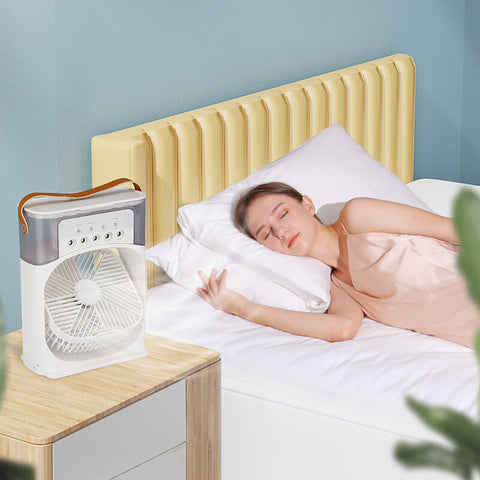 note:
Please use clean and pure water; after adding water, do not tilt the cooler, do not shake the body, waterproof moisture leaks out, if knocking the air cooler or sprinkling water, please cut off the power immediately. Then wipe the water in time to dry the machine.
SPECIFICATIONS
Product Weight:

 9

85g
Size(L*W*H): 21×26cm
Battery Capacity: 

no battery

Package Contents: Humidification mini refrigeration fan *1
NOTE
Due to the different display and lighting effects, the actual color of the item may be showing slightly different from the color shown in the photograph.