Play with your cat leisurely just by shaking your foot!
Having this, you can tease your cat even you are busy!!
What a helper for us "busy man"!!!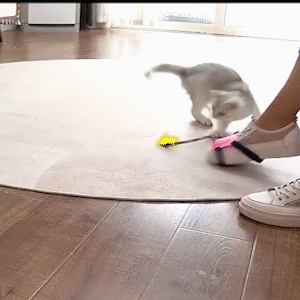 Hands-free
This cat toy can free your hands and you will play with the cat leisurely, which helps you establish a more intimate relationship with your cat.
Teasing Cat Even You are Busy
It is designed to be tied to your feet, which can free your hands, allowing you to do many things while teasing the cat, such as reading, working, playing with mobile phones, watching TV, doing crafts, calling and so on.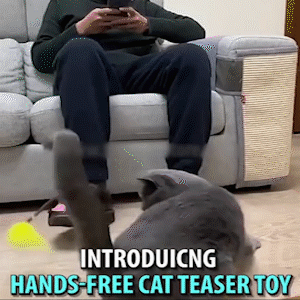 More Interaction with Cat, Less Anxiety on Cat
When you interact with cat, they will feel happier. Interacting with cat relieve the cat's daily boring anxiety, so that the cat will not damage the furniture, clothing, etc.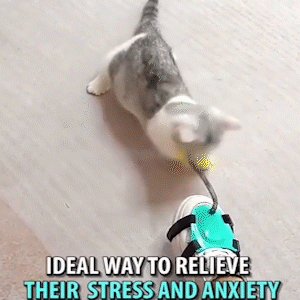 More Benefit for Cat
The feathers on the shoes attracts the cat's attention deeply so that the cats will flick and bite the feathers. When chasing, the cat's activity and intelligence will be improved and the cat's physique strengthened.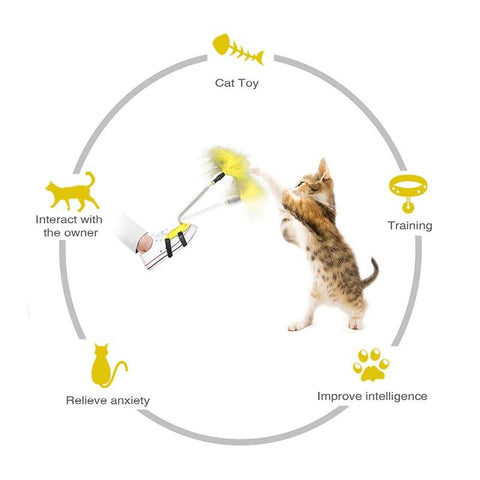 Sturdy and Durable
Made of sturdy and durable ABS material, it will not be damaged by cats and have a long use time.
How to Use
1.Stick the velcro in a suitable position according to the degree of tightness after it perforated.
2.Insert the feather into the hard plug on the top of the spring.
3.Insert the bottom of the combined spring into the hole of the toy body.
SPECIFICATIONS
Material: ABS
Size: 72mm/2.8in*84mm/3.3in
Package includes: 1×Hands-Free Cat Teaser Toy
NOTE
Due to manual measurements, please allow slight measurement deviations.
Due to the difference in light and monitor during shooting, a certain chromatic aberration will be caused.